---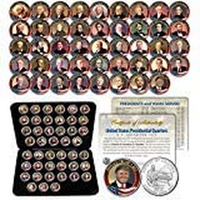 United States Presidential Quarters complete set consisting of 45 beautifully colorized 2009 District of Columbia Quarters US Coins featuring all 46 United States Presidents - Genuine Legal Tender Coins. TRUMP & BIDEN INCLUDED!
Each coin comes in a premium coin capsule.
Each set comes with a deluxe leatherette coin display metal box valued at $39.95.
Each set comes with a Certificate of Authenticity to guarantee that your coins are authentic and recognized by every monetary authority around the world, assuring its Collector Edition status.
REGULAR PRICE of this 45-coin set is $339.95. GREAT SAVINGS BY BUYING HERE NOW!!!