---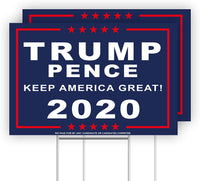 POLITICAL SIGN - This Trump 2020 waterproof yard sign is a perfect way to show your support.  Includes a Pin and Sticker.
Keep America Great 2020 Donald Trump for President Yard sign.  Election Yard sign supporting the 45th president, Donald Trump
Trump 
2020 
KEEP AMERICA GREAT 
Authentic Production From
This Sign was Professionally Produced on a
12" x 18" 4mm H
igh Quality 
Weather Resistant 
white Corrugated Plastic 
and comes with a
  8" x 15" H wire stake. 
While supplies last, we will include a FREE Trump 2020 Beverage cozy/cooler and a Trump 2020 Sticker.  These will only be given as supplies last.