---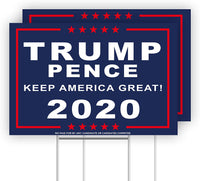 POLITICAL SIGN - This Trump 2020 waterproof yard sign is a perfect way to show your support.  
Keep America Great 2020 Donald Trump for President Yard sign.  Election Yard sign supporting the 45th president, Donald Trump
While supplies last, we will include a FREE  Trump 2020 Sticker.  These will only be given as supplies last.