---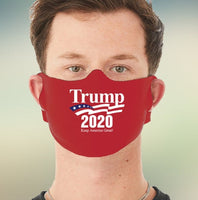 Our one-piece Adult Face Masks are custom made. They're cozy, comfortable and breathable. Made in the USA. Fast Shipping. Made from 8 oz. heavy fleece material, and provides a more protective barrier.
*No uncomfortable elastic to rub
*One size fits most Adults
*Masks are about 15.5"w x 6.0"h and with 2 sets of slits for slipping over the ears
*Washable and reusable for many uses
*Very adjustable. Easy to add slits for adjustable fit
*Hand made and produced by our team
*Comfortable fit all shapes and faces
*Non medical grade in total compliance with etsy requirements
IMPORTANT!
Our masks do not come with filters or the option to insert any types of filters.
Disclaimer:
This mask is not intended to act as a medical device or other medical products and BellaByDesigns makes no warranties, either expressed or implied that the mask prevents infection or the transmission of viruses or diseases. The mask is not a substitute for professional medical advice, diagnosis or treatment. If you have any specific issues about any medical matter, you should consult a doctor or healthcare provider.