---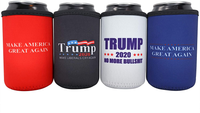 🍺 KEEP AMERICA'S BEER GREAT - Be the envy of the party when you break out these 12-ounce beverage holders that display your patriotism and support of conservative values and love for America! 🇺🇸 No one likes warm beer, so show your buddies that you are doing your part to help keep America great by bringing this coozie 4-pack to the next get-together. Once you wrap your beverage in this awesome novelty thermal cooler, you will never want to drink another cold cerveza without it!
🎁 UNIQUE BEER GIFT FOR MEN WHO HAVE EVERYTHING - The high quality and unique one-of-a-kind designs of these 4-packs make them the perfect Christmas gift for those hard-to-shop-for men, women, and families on your holiday present shopping list.
🍻 BEER'S BEST OUTDOOR FRIEND - This insulating can keeper is ideal for drinking a brewski outdoors. Whether at the beach, 🏖️ a pool-side barbecue, 👙 camping, 🏕️ or a tailgate party before the big game, 🏈 be sure to insulate your hops and soda pops to keep them chilled on hot days. Memorial Day, 🇺🇸 4th of July, 🎇 and all other outdoor patriotic BBQ parties, all call for the coldest ❄️ brew possible, and this can keeper helps contribute to that great cause.
😎PREMIUM NEOPRENE MATERIAL, GREAT FOR WINTER ☃️ - This thermal canned beverage holder sleeve is made from the same material as a wetsuit, to keep your insulated brews colder, allowing your hands to stay warm ☀️while you enjoy your icy ❄️booze, so keep it handy at Thanksgiving 🦃 Christmas 🎄 New Year's 🎉 and all other winter holiday parties and get-togethers.
🌟 VERSATILE - This insulative cover is 3.75" (9.5cm) tall and comfortably fits glass, aluminum and plastic bottles with a round base that measure up to 2.5" (6.5cm) in diameter. Also easy to grip and remains stable when set on a sturdy surface. Material is slightly stretchy, making it easy to put on and take off, while ensuring a snug fit on standard size 12 ounce beer and soft drink cans.
AWESOMETIVITY, LLC is a USMC veteran-owned, U.S. based small business. If you are in search of the perfect gift for him or for her for Christmas, Birthday (21st birthday, perhaps?), graduation, Father's Day, Mother's Day , anniversary , etc., these insulated cooler sleeves are the perfect unique, fun, and funny gift for any of your family, friends, or other loved ones. And if you are looking to make a good impression by bringing a thoughtful host or hostess present, or even just providing a great conversation starter, bring this beer cover as a surefire way to get some attention!